InCollection
Design Luxy R&D
Streamlined line, modern cut. InCollection is a collection of tables that meets the needs of anyone who requires an aesthetically beautiful and technically functional support point.
Geometry and attention to detail.
The characteristics of InCollection are reflected in the two versions available: inQuadro and inTondo, which share versatility and a great capacity for optimising space.
30 Models available
QO1Q
SQUARE STEEL BASE, SQUARE TOP
QO1T
SQUARE STEEL BASE, ROUND TOP
QO2Q
SQUARE STEEL BASE, SQUARE TOP
QO2T
SQUARE STEEL BASE, ROUND TOP
QO3Q
SQUARE STEEL BASE, SQUARE TOP
QO3T
SQUARE STEEL BASE, ROUND TOP
QO4Q
SQUARE STEEL BASE, SQUARE TOP
QO4T
SQUARE STEEL BASE, ROUND TOP
QO5Q
SQUARE STEEL BASE, SQUARE TOP
QO5T
SQUARE STEEL BASE, ROUND TOP
QO6Q
SQUARE STEEL BASE, SQUARE TOP
QO6T
SQUARE STEEL BASE, ROUND TOP
QO5TA
SQUARE STEEL BASE, SQUARE TOP, ADJUSTABLE COLUMN
QO6TA
SQUARE STEEL BASE, ROUND TOP, ADJUSTABLE COLUMN
TO1Q
ROUND STEEL BASE, SQUARE TOP
TO1T
ROUND STEEL BASE, ROUND TOP
TO2Q
ROUND STEEL BASE, SQUARE TOP
TO2T
ROUND STEEL BASE, ROUND TOP
TO3Q
ROUND STEEL BASE, SQUARE TOP
TO3T
ROUND STEEL BASE, ROUND TOP
TO4Q
ROUND STEEL BASE, SQUARE TOP
TO4T
ROUND STEEL BASE, ROUND TOP
TO5Q
ROUND STEEL BASE, SQUARE TOP
TO5T
ROUND STEEL BASE, ROUND TOP
TO6Q
ROUND STEEL BASE, SQUARE TOP
TO6T
ROUND STEEL BASE, ROUND TOP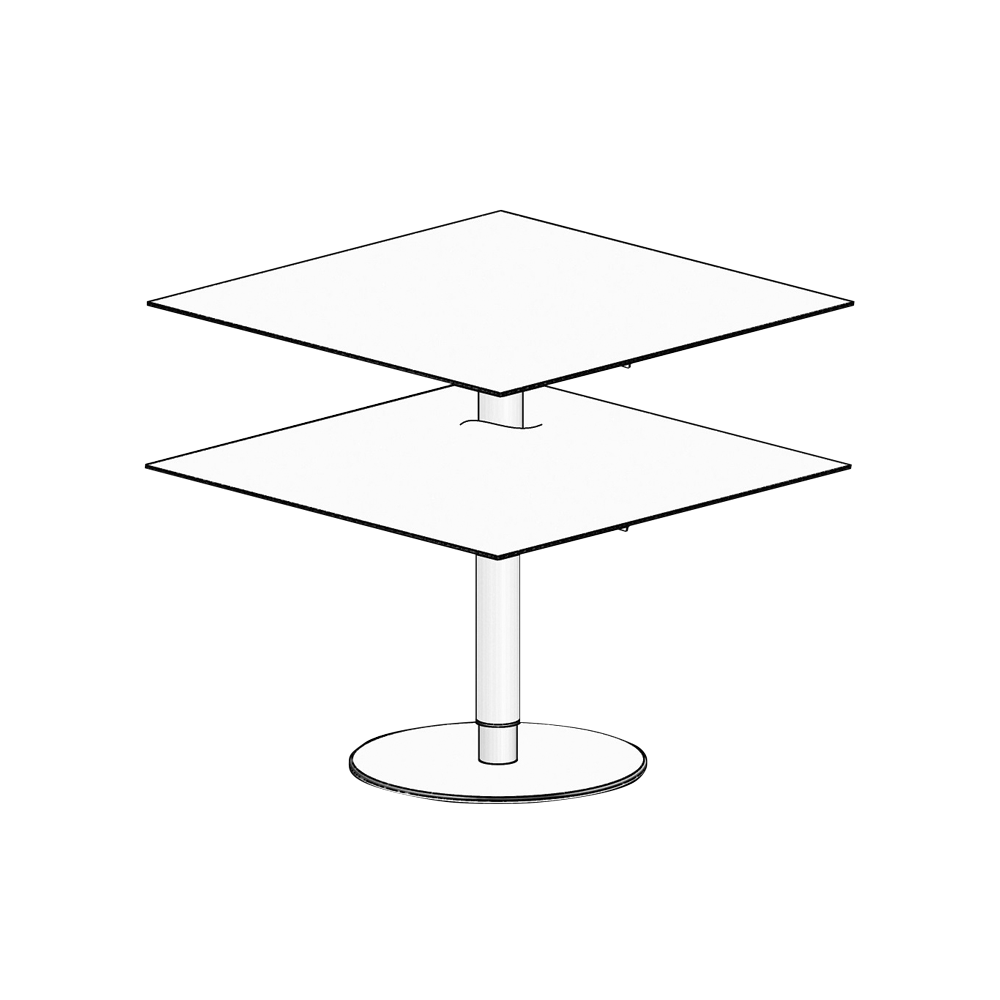 TO5QA
ROUND STEEL BASE, SQUARE TOP, ADJUSTABLE COLUMN
TO5TA
ROUND STEEL BASE, ROUND TOP, ADJUSTABLE COLUMN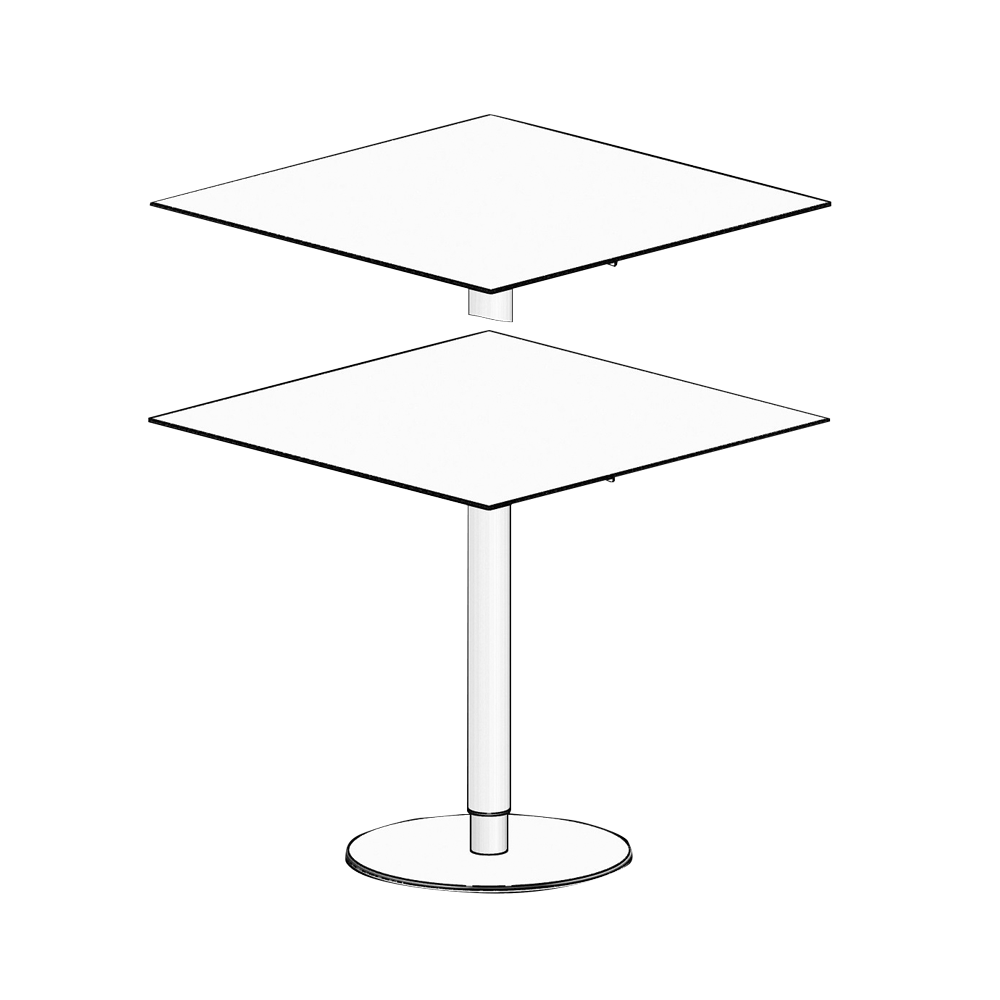 TO6QA
ROUND STEEL BASE, SQUARE TOP, ADJUSTABLE COLUMN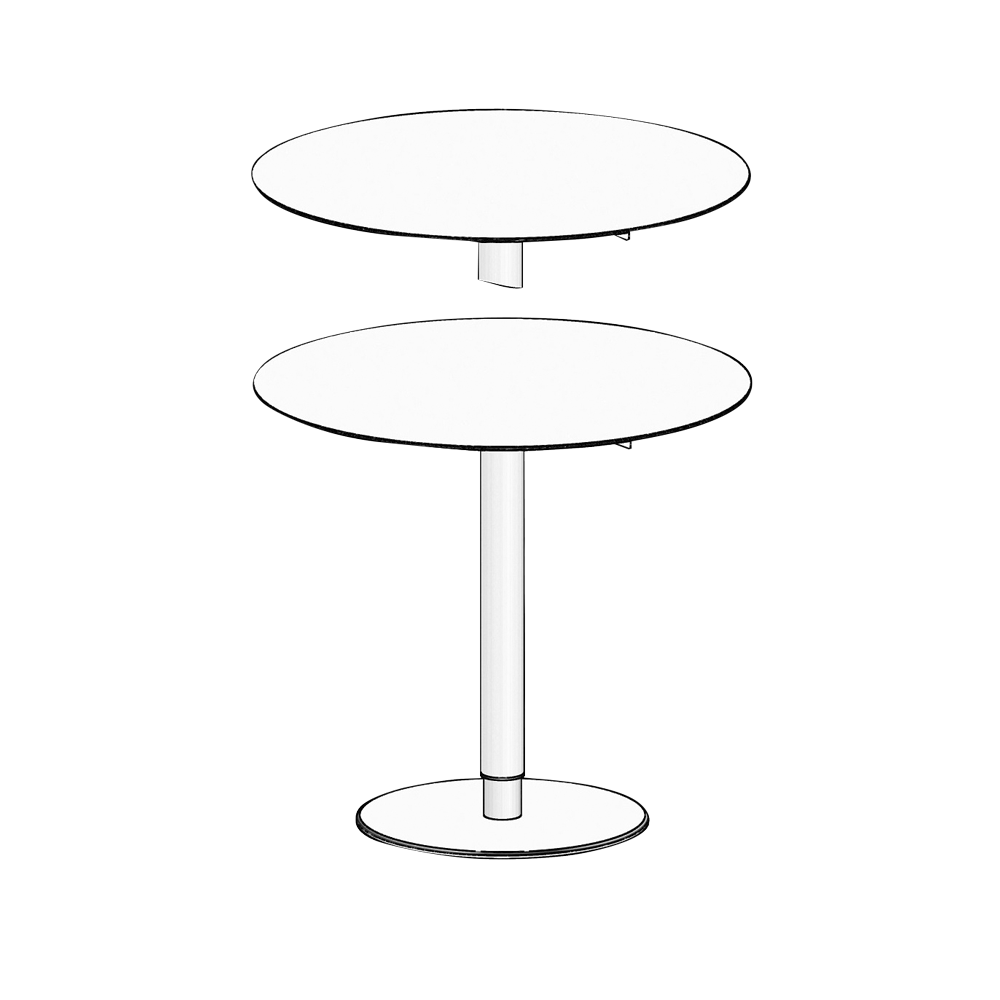 TO6TA
ROUND STEEL BASE, ROUND TOP, ADJUSTABLE COLUMN
InCollection QO1Q
SQUARE STEEL BASE, SQUARE TOP
Total height 40 cm
Top 59x59 cm
Base 38x38 cm
InCollection QO1T
SQUARE STEEL BASE, ROUND TOP
Total height 40 cm
Top 59 cm
Base 38x38 cm
InCollection QO2Q
SQUARE STEEL BASE, SQUARE TOP
Total height 73 cm
Top 59x59 cm
Base 38x38 cm
InCollection QO2T
SQUARE STEEL BASE, ROUND TOP
Total height 73 cm
Top 59 cm
Base 38x38 cm
InCollection QO3Q
SQUARE STEEL BASE, SQUARE TOP
Total height 106 cm
Top 59x59 cm
Base 38x38 cm
InCollection QO3T
SQUARE STEEL BASE, ROUND TOP
Total height 106 cm
Top 59 cm
Base 38x38 cm
InCollection QO4Q
SQUARE STEEL BASE, SQUARE TOP
Total height 40 cm
Top 79x79 cm
Base 45x45 cm
InCollection QO4T
SQUARE STEEL BASE, ROUND TOP
Total height 40 cm
Top 79 cm
Base 45x45 cm
InCollection QO5Q
SQUARE STEEL BASE, SQUARE TOP
Total height 73 cm
Top 79x79 cm
Base 45x45 cm
InCollection QO5T
SQUARE STEEL BASE, ROUND TOP
Total height 73 cm
Top 79 cm
Base 45x45 cm
InCollection QO6Q
SQUARE STEEL BASE, SQUARE TOP
Total height 106 cm
Top 79x79 cm
Base 45x45 cm
InCollection QO6T
SQUARE STEEL BASE, ROUND TOP
Total height 106 cm
Top 79 cm
Base 45x45 cm
InCollection QO5TA
SQUARE STEEL BASE, SQUARE TOP, ADJUSTABLE COLUMN
Total height 49-73 cm
Top 79 cm
Base 45x45 cm
InCollection QO6TA
SQUARE STEEL BASE, ROUND TOP, ADJUSTABLE COLUMN
Total height 74-111 cm
Top 79 cm
Base 45x45 cm
InCollection TO1Q
ROUND STEEL BASE, SQUARE TOP
Total height 40cm
Top 59x59cm
Base 40cm
InCollection TO1T
ROUND STEEL BASE, ROUND TOP
Total height 40cm
Top 59cm
Base 40cm
InCollection TO2Q
ROUND STEEL BASE, SQUARE TOP
Total height 73cm
Top 59x59cm
Base 40cm
InCollection TO2T
ROUND STEEL BASE, ROUND TOP
Total height 73cm
Top 59cm
Base 40cm
InCollection TO3Q
ROUND STEEL BASE, SQUARE TOP
Total height 106cm
Top 59x59cm
Base 40cm
InCollection TO3T
ROUND STEEL BASE, ROUND TOP
Total height 106cm
Top 59cm
Base 40cm
InCollection TO4Q
ROUND STEEL BASE, SQUARE TOP
Total height 40cm
Top 79x79cm
Base 47cm
InCollection TO4T
ROUND STEEL BASE, ROUND TOP
Total height 40cm
Top 79cm
Base 47cm
InCollection TO5Q
ROUND STEEL BASE, SQUARE TOP
Total height 73cm
Top 79x79cm
Base 47cm
InCollection TO5T
ROUND STEEL BASE, ROUND TOP
Total height 73cm
Top 79cm
Base 47cm
InCollection TO6Q
ROUND STEEL BASE, SQUARE TOP
Total height 106cm
Top 79x79cm
Base 47cm
InCollection TO6T
ROUND STEEL BASE, ROUND TOP
Total height 106cm
Top 79cm
Base 47cm
InCollection TO5QA
ROUND STEEL BASE, SQUARE TOP, ADJUSTABLE COLUMN
Total height 49-73cm
Top 79cm
Base 47cm
InCollection TO5TA
ROUND STEEL BASE, ROUND TOP, ADJUSTABLE COLUMN
Total height 49-73cm
Top 79cm
Base 47cm
InCollection TO6QA
ROUND STEEL BASE, SQUARE TOP, ADJUSTABLE COLUMN
Total height 74-111cm
Top 79cm
Base 47cm
InCollection TO6TA
ROUND STEEL BASE, ROUND TOP, ADJUSTABLE COLUMN
Total height 74-111cm
Top 79cm
Base 47cm