Smartlight
Design Luxy R&D
SmartLight is the chair designed for a dynamic and collaborative working environment. Gritty, simple and intuitive, it is the companion on a journey towards original ideas. All without losing sight of the decisive factor of seating comfort.
An excellent piece of furniture in a room where design reigns.
Linear and uniform thanks to its all mesh covering, available with five spokes with castors or four spokes with feet.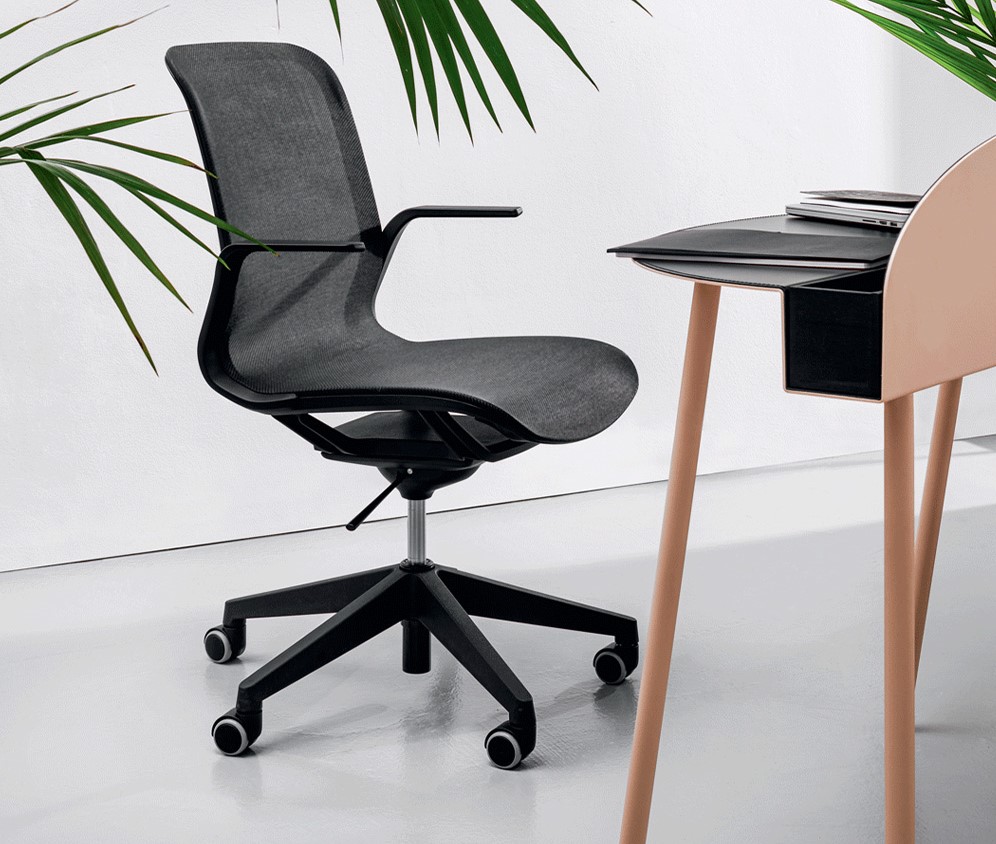 15 Models available
EX1
HIGH BACKREST, FIXED ARMRESTS, 5 STAR BASE
EX2
MEDIUM BACKREST, FIXED ARMRESTS, 5 STAR BASE
EX3
MEDIUM BACKREST, WITHOUT ARMRESTS, 5 STAR BASE
EX4
HIGH BACKREST, FIXED ARMRESTS, 5 STAR BASE
EX5
MEDIUM BACKREST, FIXED ARMRESTS, 5 STAR BASE
EX6
MEDIUM BACKREST, WITHOUT ARMRESTS, 5 STAR BASE
EX7
HIGH BACKREST, FIXED ARMRESTS, 5 STAR BASE
EX8
MEDIUM BACKREST, FIXED ARMRESTS, 5 STAR BASE
EX9
MEDIUM BACKREST, WITHOUT ARMRESTS, 5 STAR BASE
EX12
HIGH BACKREST, FIXED ARMRESTS, 4 STAR ALUMINIUM BASE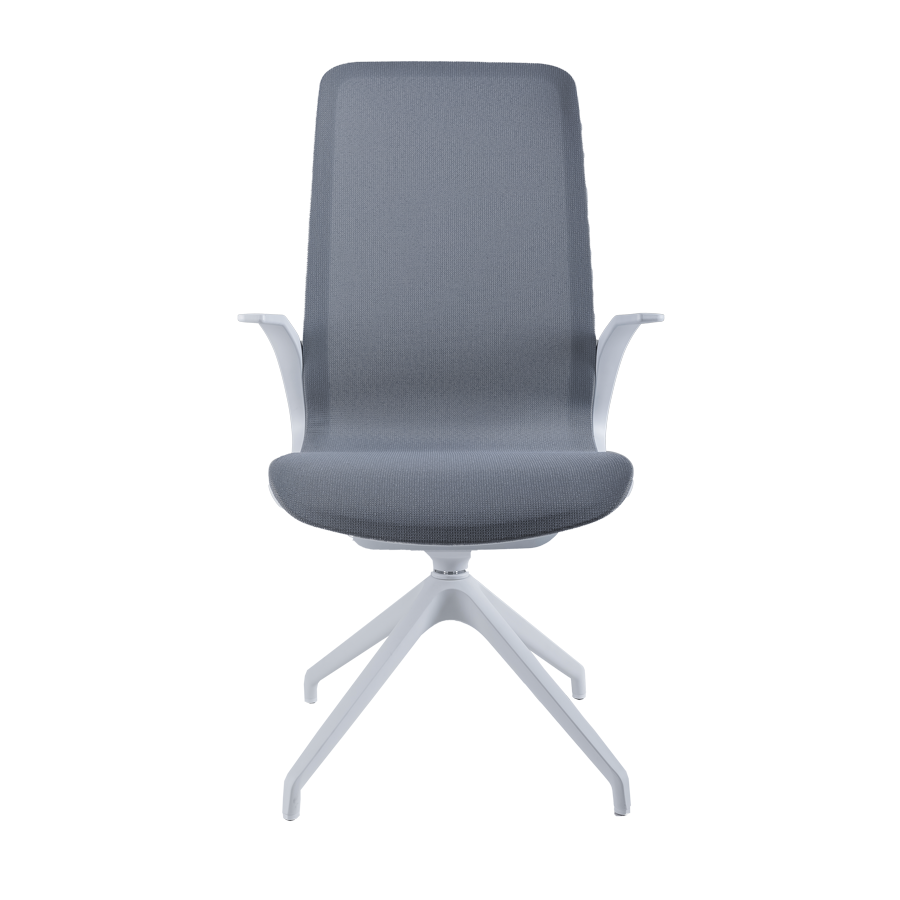 EX13
HIGH BACKREST, FIXED ARMRESTS, 4 STAR NYLON BASE
EX14
MEDIUM BACKREST, FIXED ARMRESTS, 4 STAR ALUMINIUM BASE
EX15
MEDIUM BACKREST, FIXED ARMRESTS, 4 STAR NYLON BASE
EX16
MEDIUM BACKREST, 4 STAR ALUMINIUM BASE
EX17
MEDIUM BACKREST, 4 STAR NYLON BASE
Smartlight EX1
HIGH BACKREST, FIXED ARMRESTS, 5 STAR BASE
Total height 111 cm
Width 67 cm
Depth 76 cm
Decentrated multiblock mechanism
Smartlight EX2
MEDIUM BACKREST, FIXED ARMRESTS, 5 STAR BASE
Total height 96 cm
Width 67 cm
Depth 76 cm
Decentrated multiblock mechanism
Smartlight EX3
MEDIUM BACKREST, WITHOUT ARMRESTS, 5 STAR BASE
Total height 96 cm
Width 67 cm
Depth 76 cm
Decentrated multiblock mechanism
Smartlight EX4
HIGH BACKREST, FIXED ARMRESTS, 5 STAR BASE
Total height 111 cm
Width 67 cm
Depth 76 cm
Swinging 4D mechanism
Smartlight EX5
MEDIUM BACKREST, FIXED ARMRESTS, 5 STAR BASE
Total height 90 cm
Width 67 cm
Depth 76 cm
Swinging 4D mechanism
Smartlight EX6
MEDIUM BACKREST, WITHOUT ARMRESTS, 5 STAR BASE
Total height 90 cm
Width 67 cm
Depth 76 cm
Swinging 4D mechanism
Smartlight EX7
HIGH BACKREST, FIXED ARMRESTS, 5 STAR BASE
Totale height 104 cm
Width 67 cm
Depth 76 cm
Gas lift mechanism
Smartlight EX8
MEDIUM BACKREST, FIXED ARMRESTS, 5 STAR BASE
Totale height 89 cm
Width 67 cm
Depth 72 cm
Gas lift mechanism
Smartlight EX9
MEDIUM BACKREST, WITHOUT ARMRESTS, 5 STAR BASE
Totale height 89 cm
Width 67 cm
Depth 72 cm
Gas lift mechanism
Smartlight EX12
HIGH BACKREST, FIXED ARMRESTS, 4 STAR ALUMINIUM BASE
Total height 110 cm
Width 62 cm
Depth 70 cm
Smartlight EX13
HIGH BACKREST, FIXED ARMRESTS, 4 STAR NYLON BASE
Total height 110 cm
Width 62 cm
Depth 70 cm
Smartlight EX14
MEDIUM BACKREST, FIXED ARMRESTS, 4 STAR ALUMINIUM BASE
Total height 93 cm
Width 62 cm
Depth 70 cm
Smartlight EX15
MEDIUM BACKREST, FIXED ARMRESTS, 4 STAR NYLON BASE
Total height 94 cm
Width 62 cm
Depth 65 cm
Smartlight EX16
MEDIUM BACKREST, 4 STAR ALUMINIUM BASE
Total height 93 cm
Width 62 cm
Depth 70 cm
Smartlight EX17
MEDIUM BACKREST, 4 STAR NYLON BASE
Total height 94 cm
Width 51 cm
Depth 65 cm